Chef  Matteo Maenza's recipe with Querciabella and Bontasana
Matteo Maenza is the Executive Chef at Lefay Resort & SPA. Nutrition is an essential part of Lefay's Total Wellness philosophy as is sustainability: all the ingredients in Maenza's contemporary cuisine are locally farmed and sourced to respect the environment, the seasonality of the produce and the guests' well-being.
The menu at La Gran Limonaia Restaurant reflects a profound appreciation of the Mediterranean diet and the health benefits it brings without giving up on flavour. Chef Maenza pours all his experience and talent into creating fresh, tangy and light dishes bursting with creativity and taste.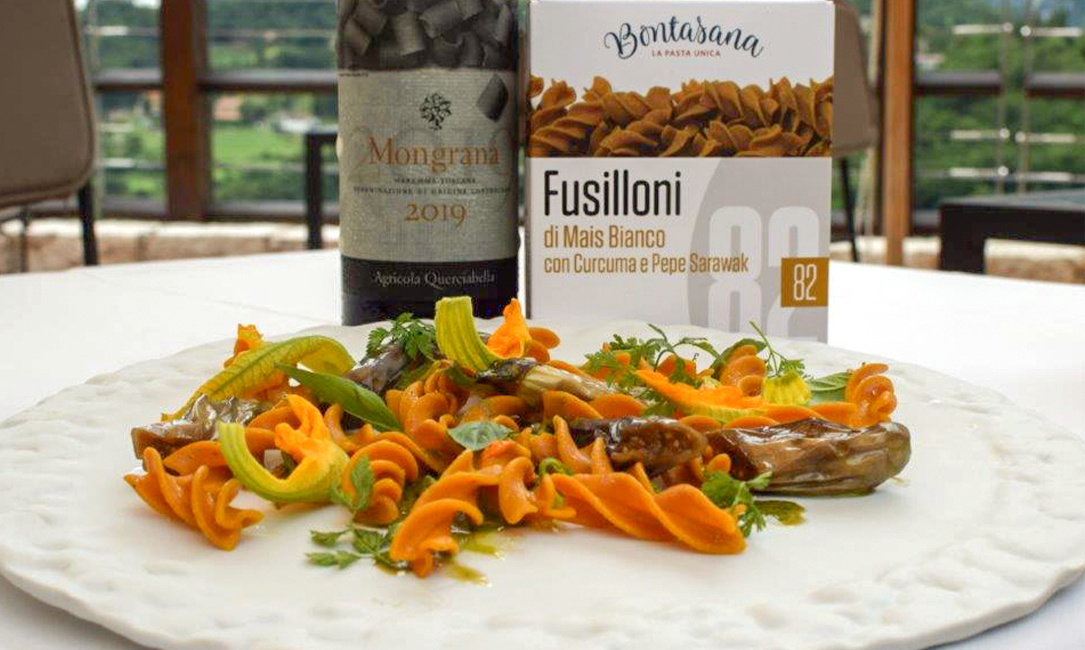 Bontasana's White Corn Fusilloni with Turmeric and Sarawak Pepper N°82, Asian eggplant, courgette blossoms and basil pesto
By Matteo Menza
SERVES 4
200 g Bontasana White Corn Fusilloni with Turmeric and Sarawak Pepper
250 g Asian eggplant
10 zucchini blossoms
2 sprigs marjoram
150 g basil pesto
For the pesto:
200 g basil leaves
50 g extra virgin olive oil
10 g pine nuts
10 g nutritional yeast flakes
salt to taste
Cut the aubergines into diamond shapes and gently fry in a pan, drain on absorbent paper and add salt.
Cook the White Corn Fusilloni with Turmeric and Sarawak Pepper in boiling water, in the meantime brown the zucchini blossoms in a pan, add the aubergines then mix in the pasta with some of the cooking water and add the marjoram leaves.
Off the heat, add the pesto and serve in four bowls.