Maremma is one of the most promising and exciting viticultural areas in Italy. Here, Querciabella found the ideal

ground

to explore and research new winemaking practices.
Located on the beautiful Tyrrhenian coast, Maremma stretches for about 180 km from the port city of Livorno to Tarquinia (Lazio). While the exact borders are difficult to pinpoint, for many, the region's heartland corresponds to the DOC area, limited to the province of Grosseto.
Once a deserted marshland filled with marauders and mosquitoes, this coastal wilderness has garnered worldwide attention. In the northern part of the region, Bolgheri, with its winemaking royalty, is widely seen as one of Italy's prime vineyard areas, while estates in Suvereto have claimed their spot on the global wine map. But travelling south, a different, wilder land is found.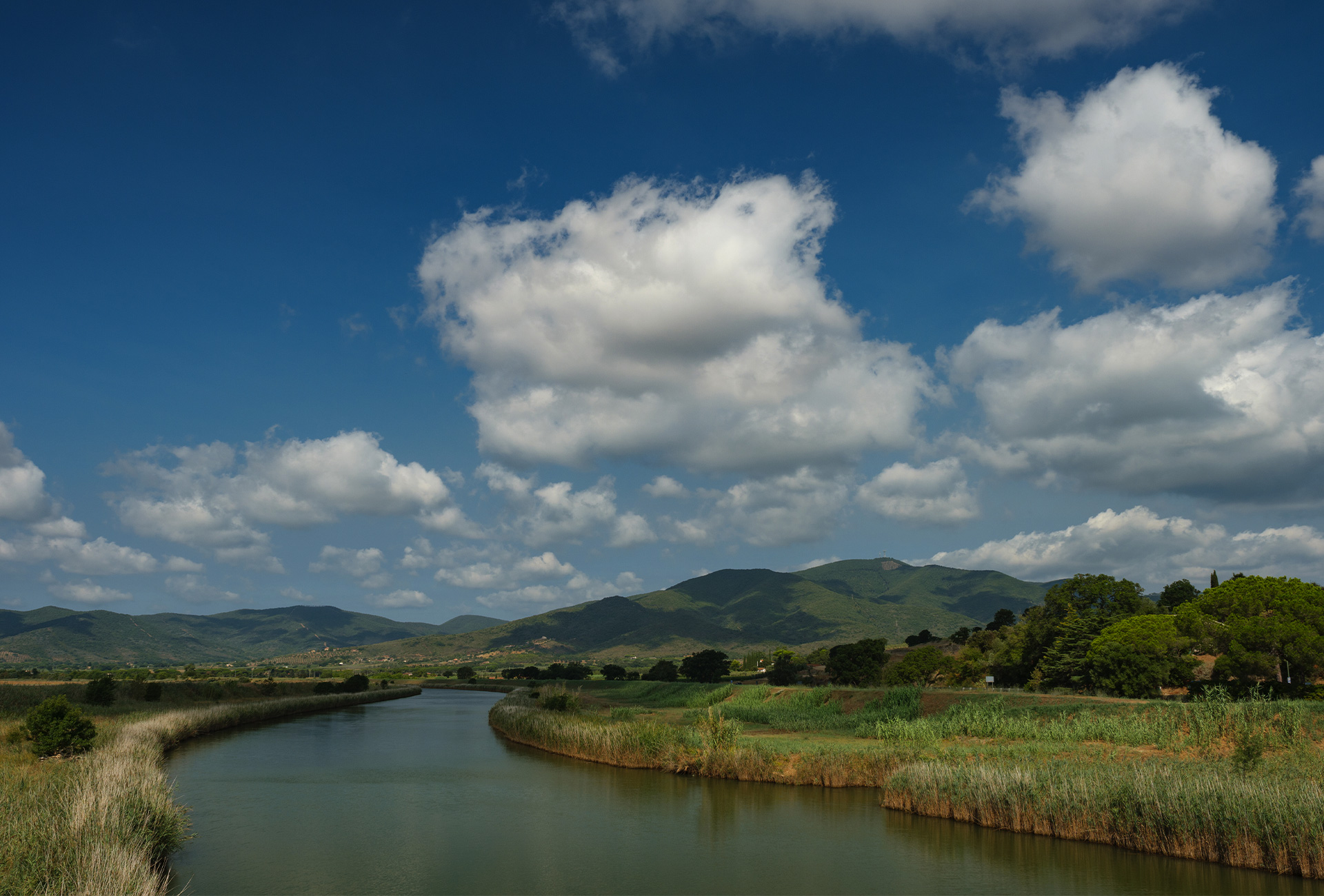 The new frontier of world-class winemaking
The roughed shores of Southern Maremma are home to one of the most pristine ecosystems in Tuscany. Thanks to the benign combination of Mediterranean climate, soil types, and unspoiled nature, a wide selection of grape varieties can thrive here. This tremendous potential, along with less restrictive regulations, has appealed greatly to those winemakers seeking freer experimentation.
Sebastiano Cossia Castiglioni led Querciabella to be one of the first producers from more established wine districts of Tuscany that settled here at the end of the 1990s, in what is considered the beginning of the region's golden age. Having always pushed boundaries and already pioneered organic farming in Chianti Classico, the team at Querciabella found an ideal environment to explore and research new winemaking practices in harmony with nature.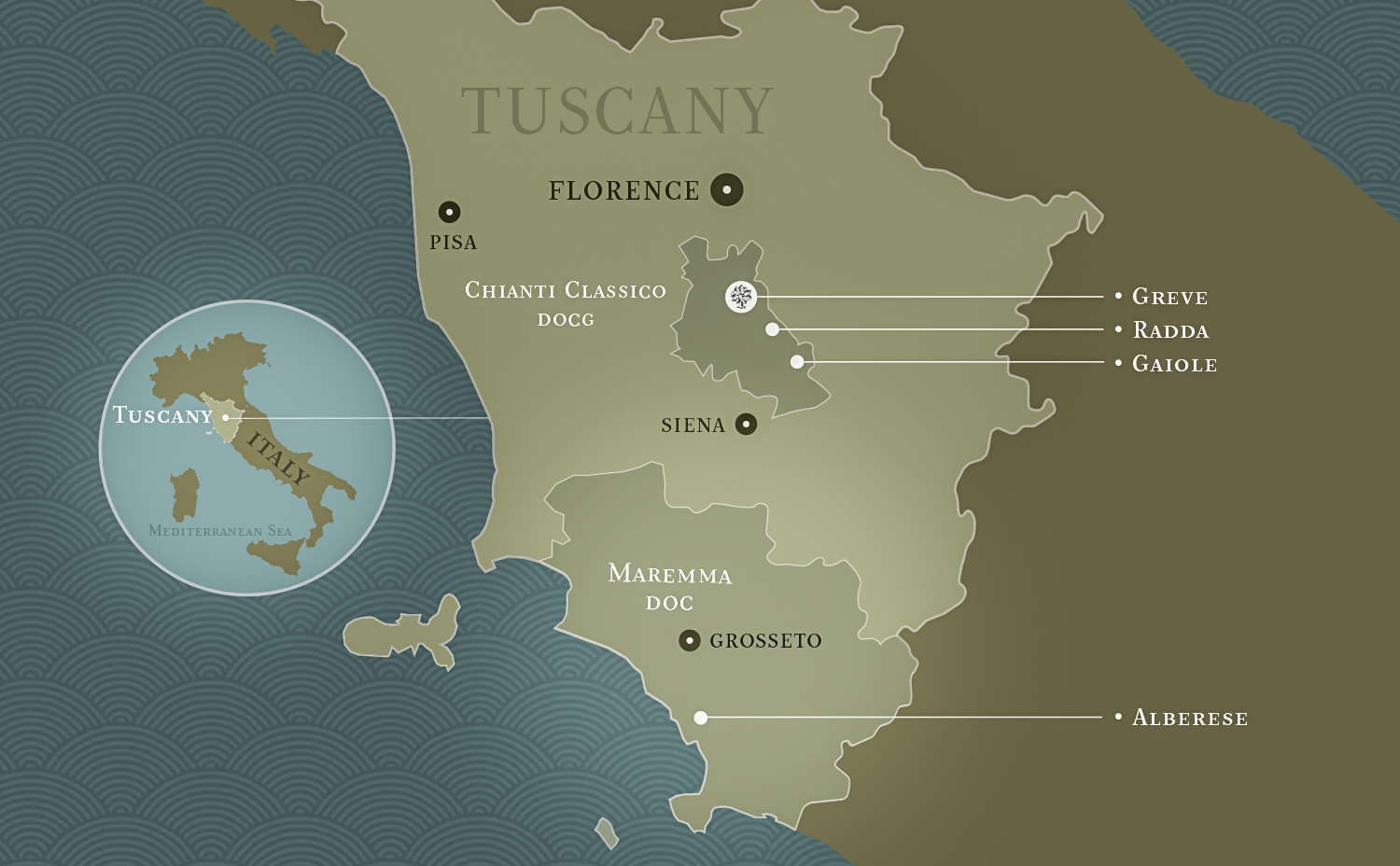 Querciabella sets roots in Maremma
The perfect blank canvas was offered by an agricultural estate in Albarese, south of Grosseto, just a stone's throw away from the sea and sheltered by the Uccellina Mountains. Banditella 1 was acquired in 1997 in an area locally known as Sugherrettaia, where our cellar is still located. With Banditella 3 (previously Podere Marras) purchase in 2002, we almost doubled our vineyard area to the current 33 hectares.
What to grow was decided in agreement with all the technical team to meet Sebastiano's preferences for the Bordeaux-inspired blends he had in mind. Main plantings of Sangiovese, Cabernet Sauvignon and Merlot in 1998 in Banditella 1, were followed by Syrah and Cabernet Franc in Banditella 3. These varieties are to this day the backbone of our production in Maremma. While a minor crop of Petit Verdot and red grapes primarily found in the Rhône valley like Mourvedre and Counoise persists, our vocation for experimentation might lead to future plantings of white grapes like Vermentino, Viognier, and Sauvignon Blanc.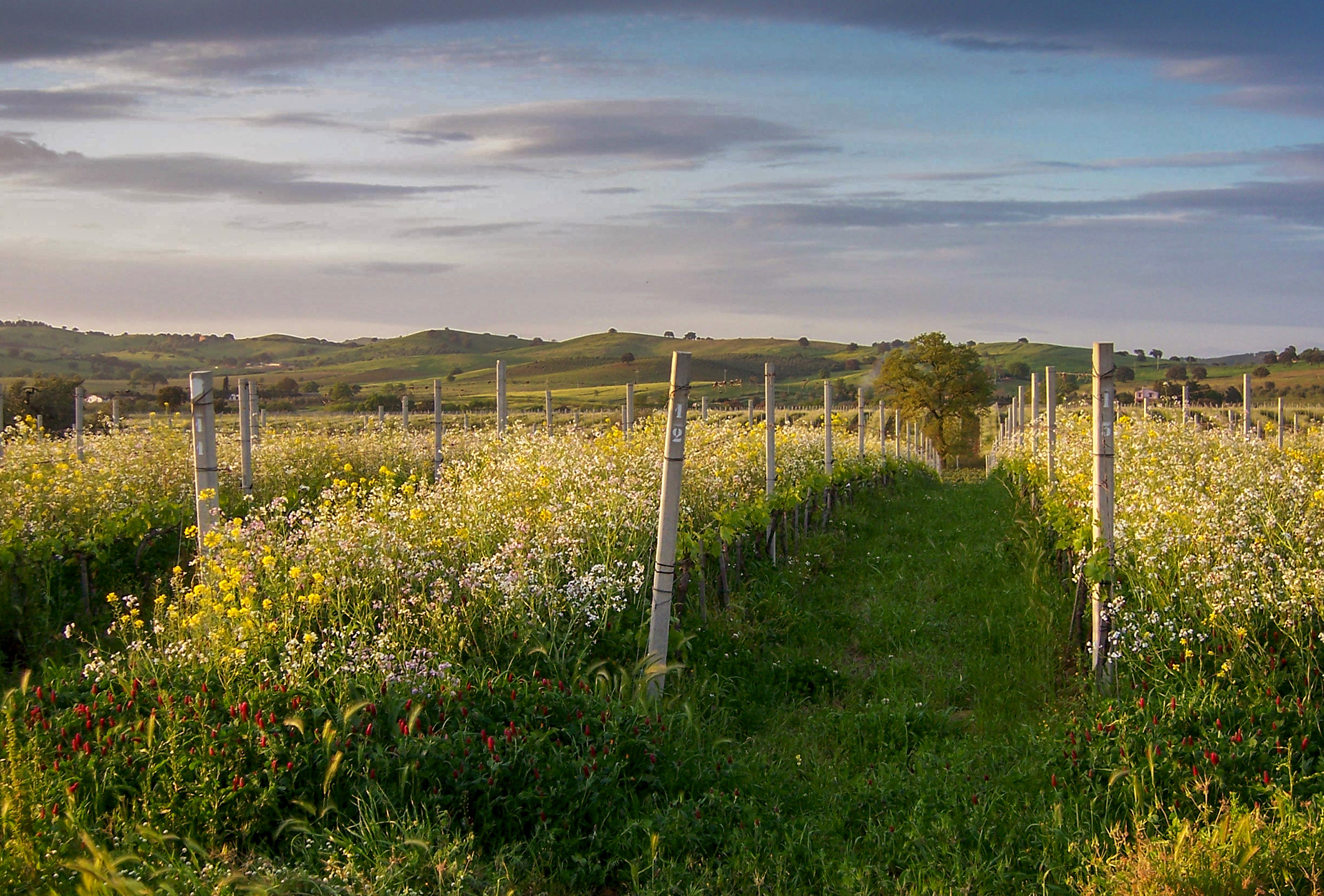 Embracing biodynamics
When we started our operations in Maremma, there were only a few hectares of vines, which we promptly uprooted as they were unfit for our viticultural goals. A decade of organic farming in our Chianti Classico estate had taught us to look at a vineyard as an ecosystem dependent on a complex network of biological diversity. However, we felt ready to experiment with more innovative ways to heighten wines' site-specificity and quality while preserving balance.
The decision to introduce biodynamics might come across as impulsive: at the turn of the 1990s, the most esoteric aspects of this philosophy were frowned upon, and its practices largely misunderstood. As the story goes, it was the iconic wines of the "godfather of biodynamics" Nicolas Joly of Coulée de Serrant in the Loire Valley that sparked Sebastiano's interest in this type of viticuture. In reality, our choice was motivated by years of commitment and research.
Holistic ecosystem at Querciabella
To sow the seeds, pun intended, our technical team attended various seminars, including a 9-week course in Piedmont led by Joly in person. In addition, both Leonello Anello and Alex Podolinsky influenced our biodynamics approach, especially in these early stages. With no time to waste, we started growing cover crops and prepping the soil with the traditional compost preparations. We didn't just consider what related specifically to viticulture; we looked at the broader agricultural context and planted varieties of ancient grains and beans on the property to determine how they could benefit the soil and the local ecosystem.
We even started a bee sanctuary. Nowadays, being a vegan vineyard, we no longer harvest the honey and allow the bees to pollinate our cover crops freely. They seem particularly attracted to the beautiful phacelia tanacetifolia (fiddlenecks) and cloves and are an excellent indicator of biodiversity and environmental balance.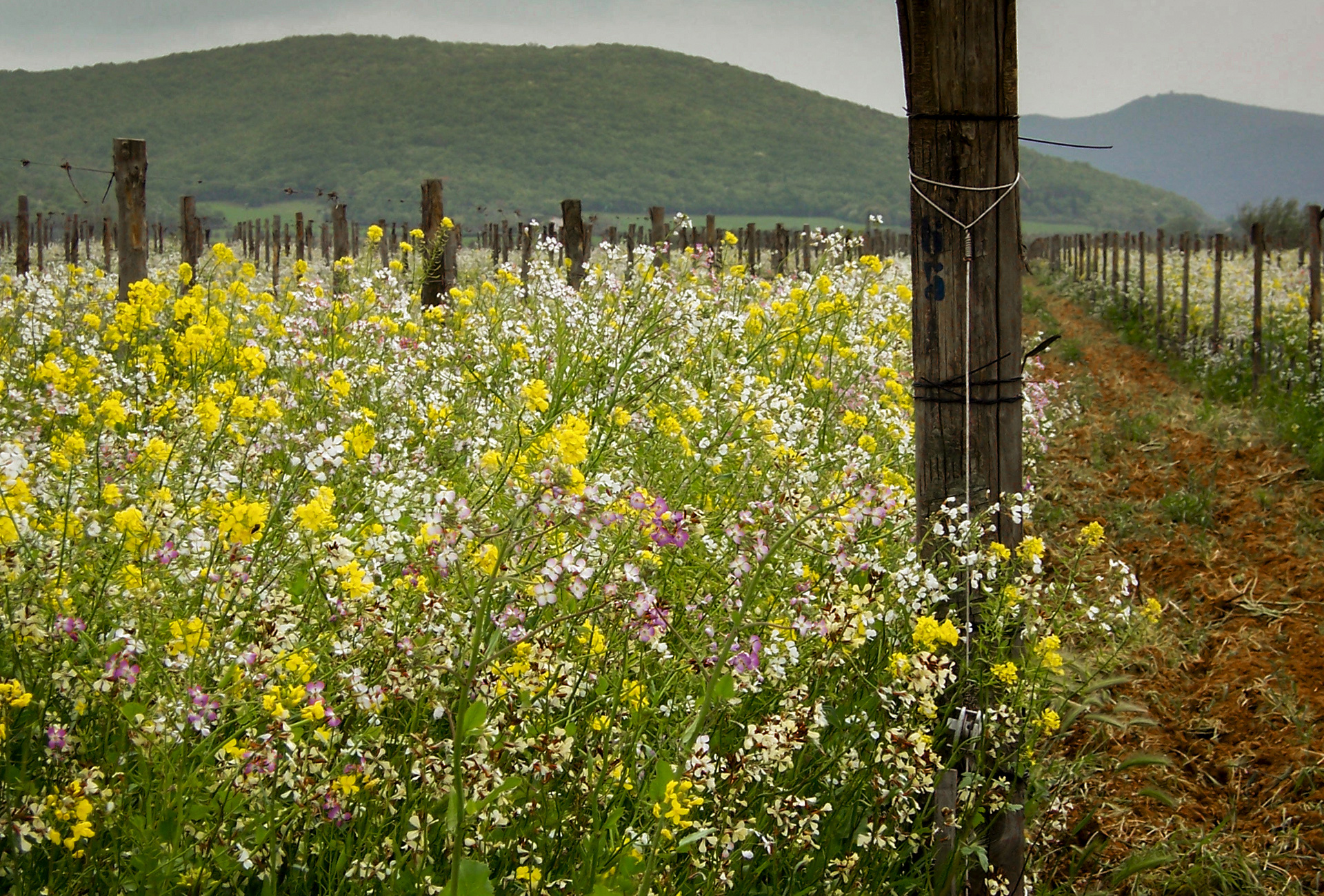 The evolution of Querciabella's plant-based philosophy
In 2010, under Sebastiano's guidance, Querciabella took another bold step and became entirely plant-based. The implications of a vegan choice extend far beyond excluding a few ingredients from the vineyard and cellar and requires an intimate understanding of the vines and their interaction with all living organisms. Replacing animal fertiliser and preparations with cover crops and green manure reduces the need for off-farm inputs, therefore creating a more balanced ecology on our land and a higher level of self-sufficiency and sustainability. Consequently, the vines thrive and achieve a more homogenous growth and grape ripening, the roots feed deep into a thriving soil, resulting in genuinely site-specific wines.
Querciabella wines from Maremma
The first wine we released from our vineyards in Alberese is Mongrana, a blend of Sangiovese, Cabernet Sauvignon, and Merlot. Since the first vintage 2005, this harmonious and beautifully vibrant wine has continuously improved and earned global attention. The long list of accolades includes being named one of the 100 Best Wines in the World by Wine Spectator. 
Our fine work with international grape varieties, yielding traditional and innovative styles, inspired us to create Turpino, a wood-aged blend of Syrah, Cabernet Franc, and Merlot, perfectly acclimatised to the maritime climate of our coastal vineyards. We chose 2007 as the inaugural vintage, and the International press has since the release warmly embraced Turpino's flavour intensity and voluptuous touch. 
But our unstoppable quest to express this terroir to its ultimate capacity means we never rest long on our laurels. Enamoured with the intensity of flavours and that subtle hint of saline minerality that distinguishes the region's white grapes, we launched Mongrana Bianco (first vintage 2020), a delicious and approachable Vermentino wine that delivers all the defining traits of its red Maremma siblings: restrained power, coastal freshness and the purity of fruit which is our hallmark.
Keep moving forward
Today, Querciabella's estate in Maremma encompasses 42 hectares (of which 33 hectares are vines). Vine age and two decades of biodynamic and organic practices mean our wines now are really better than ever. However, the issue of climate change becomes direr every day, and we have only one weapon to mitigate the increasing scarcity of rainfalls, violent atmospheric events and soaring temperatures: taking care of our plants and soil enhancing synergies that already exist in nature.
Balance is the underlying philosophy that motivates our choices and pushes us to constantly innovate. Whether it means finding ecological solutions to preventing pests and diseases, increasing long-term soil fertility or properly managing the vine's development, we keep on working to improve low-impact viticulture and the quality of our own efforts.