Chef Ugo Federico's "Puttanesca Virtuosa"
Racines is an authentic Italian trattoria run by Francesco Cury & Ugo Federico in the heart of Brussels. It's the fusion of the culinary traditions of Capri and Florence, Ugo and Francesco's regions of origin, and an ode to their mothers' cooking.
True to Italy's gastronomic and cultural heritage, what matters most is the respect of seasonal and local products, which Ugo reinterprets with an international flair and an eye on sustainability. These values are reflected with authenticity and creativity in a unique menu that changes almost daily. Once through its doors, Racines will welcome you with a great atmosphere loaded with culture, music and art, regularly hosting chefs and artisans from around the world and hosting jazz evenings.
The concept behind the recipe
Pasta alla Puttanesca is a traditional dish of Ugo's family. His father was particularly fond of it and prepared it every week to everyone's delight. It's only natural that Ugo chose to reinterpret this recipe in a "virtuous" cruelty-free version for the Joy of Conviviality. Seasonal tomatoes bring a little freshness, and working the capers and olives in a crumble adds a savoury taste and texture to the dish.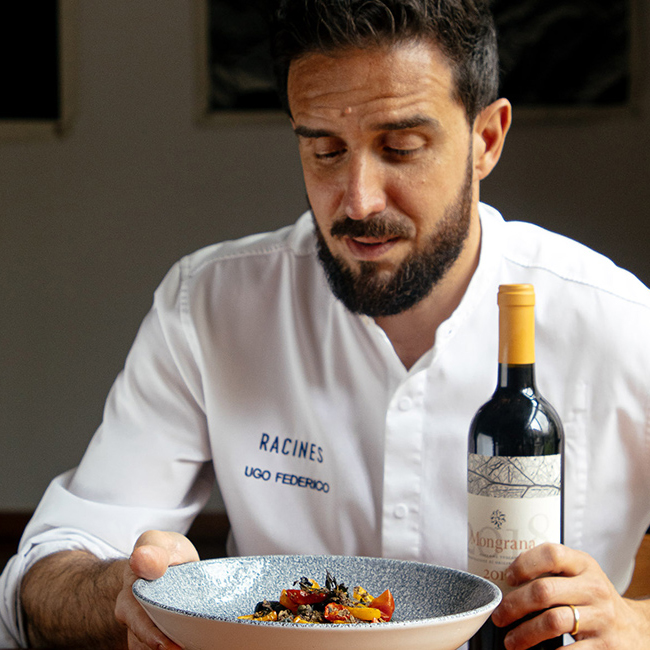 SERVES 4
250 g Bontasana White Corn with Spirulina Pipe Rigate N°94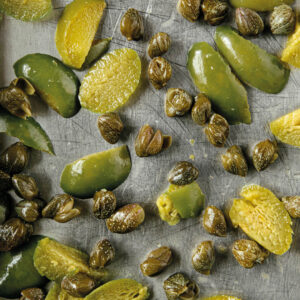 For the Olive and caper crumble
6 Bella di Cerignola green olives
20 g unsalted capers
Preheat your fan oven at 100 °C.
If necessary, gently rinse the capers with clear water to wash off any excess salt and dry them with a towel before placing them on an ovenproof baking tray. Repeat with the green olives and add them to the capers. Bake the mixture for 2 hours at 100 °C fan. The olives and capers should be very dry and crumble easily. When done, take them out of the oven and let them cool aside.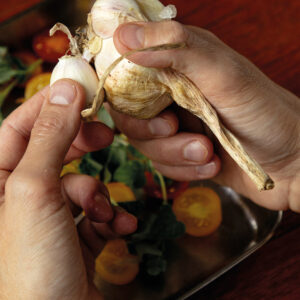 For the candied tomatoes
300 g fresh tomatoes
1 sprig of thyme
1 sprig of fresh oregano
1 clove of garlic
Cut the cherry tomatoes in half and put them on a baking sheet. Add the crushed garlic clove, herbs and salt. Drizzle generously with extra-virgin olive oil and bake at 185 °C for 35 minutes. Once cooked, keep the preparation warm.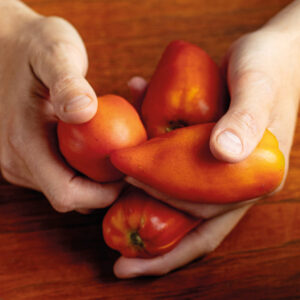 For the tomato sauce
6 San Marzano tomatoes
4 basil leaves
1 clove of garlic
Start by blanching the tomatoes. To do this, bring a pot of water to a boil, immerse the tomatoes in it for 1 minute, and quickly cool them in cold water. Now they peel more easily.
In a hot pan, fry the garlic in extra virgin olive oil. When the garlic is golden brown, lower the heat, add the peeled and quartered tomatoes, and then cook over low heat for 5 minutes. Add the basil, mix well and after a minute, remove the pan from the heat and mix everything with a drizzle of raw oil.
Bring a pot of salted water to a boil. When the water is boiling, throw in the Bontasana Pipe Rigate and cook them as suggested. Once al dente, drain the pasta and mix it with the tomato confit preparation.
Place the hot tomato sauce on a plate, creating a base to place the pasta with the tomato confit and finish with the caper and olive crumble on top.