Chef Francesco Locatelli has fun with Querciabella and Bontasana
Francesco Locatelli is the talented chef at Polisena L'altro Agriturismo, the eco-sustainable agrotourism venue in the province of Bergamo, serving exclusively organic cuisine.
The young cuisinier embraces the green revolution by sourcing from a bounty of local produce cultivated in the family-run farmstead, the greenhouse and the vegetable garden. With creativity, he elevates pure raw material into star ingredients in his dishes.
Mongrana 2019 has sublime balance and harmony. A genuine tribute to the natural fruit, a wine that can be enjoyed with all dishes. It has spicy notes and an exciting minerality, a full-bodied fruit for an excellent wine that will continue to satisfy in years to come. —FL
Chef Francesco Locatelli's signature style is to meld tastes and sensations so he has created this textural dish that gratifies the eye and even the most discerning palate.
The freshness, the mild acidity of raspberries and onion, the crunchiness of the almonds, the scented flowers and the herbaceous note of the aromatic herbs play with the sorghum Mezza Maniche that shines as the natural protagonist, both delectable and enduring.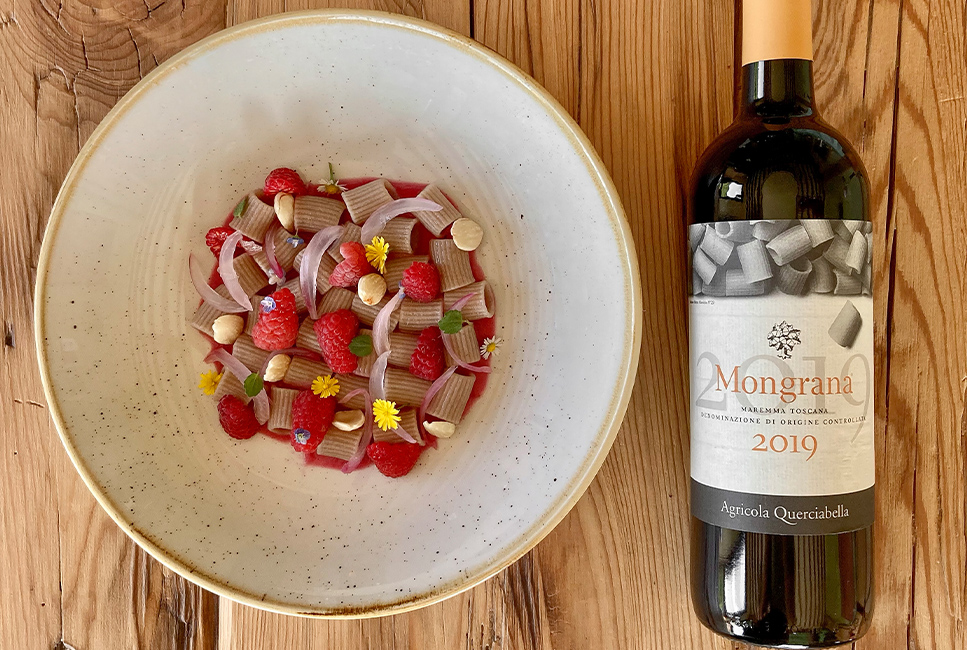 Bontasana's Sorghum Mezze Maniche, Breme Red Onion, Raspberries and Almonds
By Francesco Locatelli
SERVES 4
250 g Bontasana Sorghum Mezze Maniche N°79
600 g Breme red onion
125 g raspberries
20 almonds
aromatic herbs and wildflowers
organic extra virgin olive oil
zest of one lemon
salt to taste
black pepper to taste
For the Breme onion and raspberry sauce
Peel the Breme red onion and divide it into 4 parts. Cut 3 of these into ½ cm slices and place in a vacuum bag with the lemon zest, a pinch of salt and a twist of black pepper. Bake for 8 hours at 80 °C, in a steam oven. Once cooked, lower the temperature until the ingredients are cooled to 4 °C. Open the bag, remove the lemon zest and blend the onion with 12 raspberries. Adjust to taste and set aside at room temperature.
To garnish
Shell 20 organic Italian almonds. Place them in cold water for 24 hours then peel and put them in a dryer at 42 °C for at least 12 hours.
Julienne the previously peeled onion into 2 mm strips. Season with 1 tbs of organic apple cider vinegar and 1 g of fine integral sea salt. Leave to marinate for at least 8 hours.
Collect a bunch of fresh seasonal aromatic herbs and edible flowers, preferably with acidic notes.
Serving
Cook the pasta for 7 minutes in boiling water. Drain and season with a drizzle of organic extra virgin olive oil. Set aside for 2 minutes to cool to room temperature.
Place 3 tablespoons of the Breme onion sauce in the bowl then add 60 g of pasta. Garnish with the Breme marinade, almonds, fresh halved raspberries, herbs and flowers.