A wine for every season: falling into Autumn with Querciabella Wines.
With the revival of the "eat local" and "farm to table" movements, more and more people are becoming attuned to eating with the seasons. Put it this way, produce that is grown in season is simply more flavourful and nutritious: a tomato does not taste as sweet and juicy in Winter as it does in Summer, and while we crave cool salads and lighter meals on hot sunny days, we tend to gravitate towards piping hot and hearty stews when the temperatures drop. With those meals we often enjoy a glass of wine, so the question begs, is there such a thing as seasonal wine?
Looking for the right seasonal wine
Let's start by saying that there is nothing wrong with drinking your favourite wine all year round. But it's not difficult to see how a full-bodied Cabernet Sauvignon can be incredibly satisfying on a cold winter night sitting in front of a fire, while a crispy, light white or a rosé seems appropriate while relaxing on your porch on a scorching summer afternoon. As we move deeper into Autumn, many of us might bid farewell to Pinot Grigio and Sancerre and break out a hearty red or a richer white wine like a full-bodied Chardonnay. This might be the perfect time when reaching for a bottle of Batàr with a little bottle age or to be tempted by a glass of Turpino or our Palafreno that will warm you right up in the autumn chill.
Autumn: a season of good taste
Whereas in the Summer we may have enjoyed our vegetables raw in summer (tomatoes, cucumbers, bell peppers and green leafy vegetables) once autumn sets in we're more likely to transform them by applying heat, which turns the vegetables sweeter and richer. From lighter salads and room temperature dishes we move to fall flavours of roasted mushrooms, beets, carrots, pumpkins and other root vegetables.
During this time of year, warmer foods like bowls of stew and baked creamy casseroles find themselves on our tables. To complete a fall-inspired meal, we suggest choosing a wine that will exalt the flavours and aromas of the food, like fuller-bodied reds and slightly developed, mature whites with more complexity that match heartier and heavier dishes. Many of us engage in slow cooking like baking and braising which creates more layered flavours, so naturally, we want to seek those qualities in our wines as well.
This Autumn try these Querciabella wines
Textural whites are wonderful with rich and creamy sauces like Garlic Alfredo or a vegan bechamel sauce made from cashews. Try our Batàr, a luscious blend of Chardonnay and Pinot Bianco whose bright acidity acts as a palate cleanser and contrasts the richness of the sauce. Red-wine lover? Our super Tuscan Camartina, a blend of 70% Cabernet Sauvignon and 30% Sangiovese pairs perfectly with cooler sweater weather. Alternatively, a silky Syrah blend like our Turpino has a lot of rustic and savoury notes with powerful black fruit flavours, or our Chianti Classico, a pure 100% Sangiovese which is perfect with a variety of earthy dishes. These are more substantial wines that can stand up to dishes with stronger flavour profiles and that also has the earthiness like so many of the dishes we'll turn to this time of year.
Other tips to consider when drinking wine with the seasons
It's not only a matter of matching whatever food goes with the weather. Each season can dictate a variety of factors to consider when picking a wine, such as taste or intensity of flavour, weight, volume and serving temperature. For example, it's particularly useful to think about which temperature the wine is best served. In Autumn and Winter, wine is typically served at a warmer temperature and hence is a great companion to hot soups, pot pies and gratins. An aged Batàr served at room temperature shows a lot of complexity which is soothing in the cool weather. Conversely, a younger Batàr is best served nicely chilled and is perfect in the Summer sun. A slight chill does the trick for Mongrana, our unoaked, everyday drinking red blend from Maremma, which is great with lighter meals on hot summer days.
Ultimately, to enjoy drinking wine seasonally with more confidence, also consider the purpose of the wine you'll be choosing. Are you looking for a great "patio" wine to enjoy casually with friends? If so, reach out for a bottle of our Mongrana. Alternatively, if you're planning on sitting by the fire to escape the cold, a sturdier wine with a touch of spice such as Turpino or Camartina might be the best choice. Thanks to a few tips such as the ones described above, the wine you choose to fill your glass can really accentuate the 'taste' of a particular season.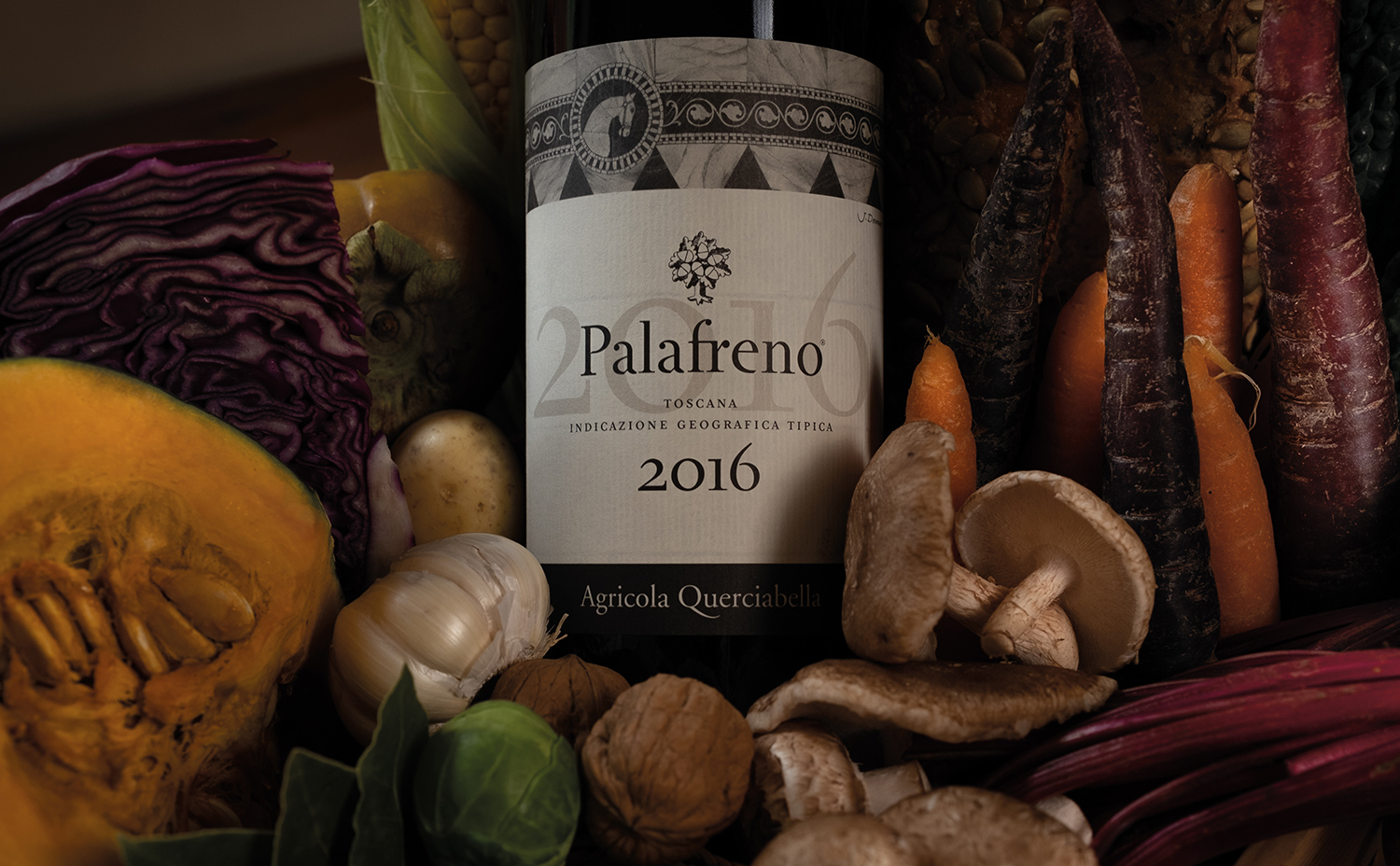 ---
Which Querciabella wine do you prefer drinking this fall?