Chef Paolo Baratella reinterprets Summer with Querciabella and Bontasana
Paolo Baratella, vegan chef and lover of global cuisine, puts respect for every living being, for the seasonality of products and of those who grow them, at the centre of his craft. Among his many successes, is the first place in the international contest "Chefs Bench" organized by the World Association of Master Chefs. He currently works, together with his trusted squad, at Linfa, the go-to restaurant in Milan to enjoy plant-based dining at its finest.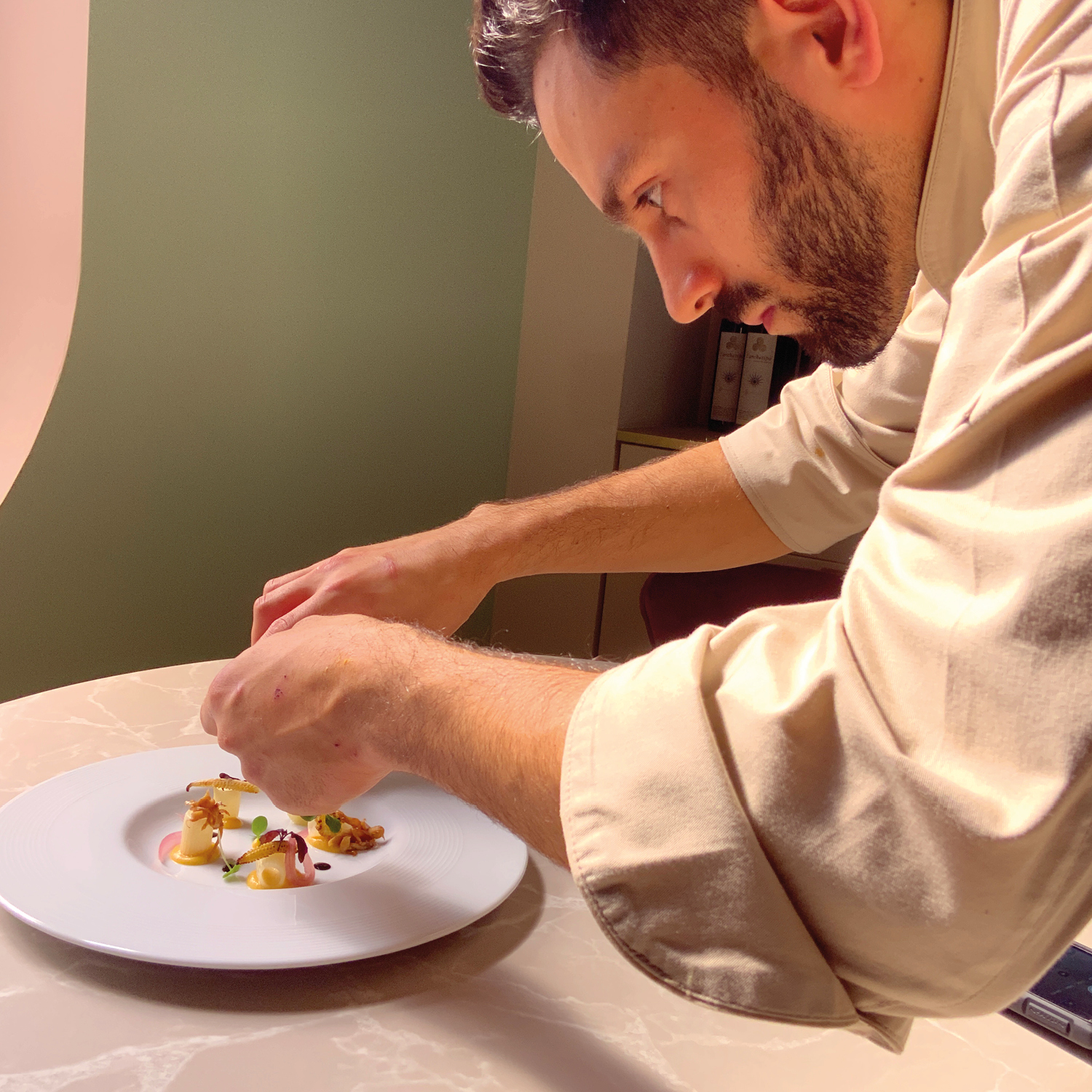 Bontasana's White Corn Mezze Maniche, Summer Recipe
By Paolo Baratella
SERVES 4
250 g Bontasana White Corn Mezze Maniche N°29
Cook the pasta according to the package instructions.
For the baby corn and yellow datterini sauce
240 g baby corn
1200 g yellow datterini tomatoes
20 g extra virgin olive oil
8 g salt
Blanch the baby corn in salted water for 3 minutes. Cool immediately in ice and water. Sauté the yellow datterini tomatoes in a pan over high heat for at least 5 minutes. If needed, add approx. 100ml water until the tomatoes are soft.
Blend both ingredients in a high-powered blender, emulsifying with a drizzle of oil until the mixture is smooth.
For the flaked King Oyster mushroom
4 King Oyster mushrooms
20 g extra virgin olive oil
12 g gluten-free soy sauce
12 g garlic
12 g apple cider vinegar
4 sprigs rosemary
Marinate the mushroom in a Sous Vide bag with the oil, soy sauce, apple cider vinegar and rosemary for at least 1 hour. Use a fork to carefully break the mushroom stalk into slivers and sauté them in a pan with a drizzle of oil.
For the black olives in oil
200 g dehydrated black olives
48 g extra virgin olive oil
148 g sunflower oil
Blend the olives that have been previously dehydrated in a dryer with the 2 types of oil until the mixture is completely black.
For the Taggiasca olive coral tuile
160 g water
40 g extra virgin olive oil
24 g flour
12 g Taggiasca olive patè
Blend the ingredients together to make a smooth mixture.
Cover the entire surface of a non-stick pan with oil and heat. Drop a small ladle of the mixture into the hot oil and cook evenly. The mixture will bubble to make a lacy effect. If necessary, turn with tongs to cook on the other side.
For the soured onions
4 red onion
1 kg water
200 g apple cider vinegar
32 g salt
40 g white sugar
1 dried vanilla pod
Bring the liquid mixture with the salt, sugar and vanilla to a boil and cook the sliced ​​onions for 15 minutes. Let them cool in their cooking water.
To garnish
micro greens
grilled and halved baby corn cobs
Arrange the baby corn and datterini tomato sauce in small stacks. Place a single pasta shape on top of each stack. Top with the flaked mushroom stems, the soured onion and a piece of torn coral tuile. Garnish with grilled baby corn cobs cut in half, drops of black olives in oil and finish off with micro greens.