Put Spring in your step with a colourful plant-based pairing. Turpino 2017 is the perfect wine to celebrate the season and accompany a vegan recipe of fresh and flavourful ingredients.
When choosing a good Spring pairing for Turpino 2017, both sweetness and earthiness come into play. The immediate accessibility of this wine and its deep fruity core are testimony to the ripe vintage: fragrant notes of cherries and plums meld with liquorice, herbs and a tad of smokiness from the Syrah in the blend. There is a vegetal note carried by the Cabernet Franc that brings complexity and earthiness to the wine.
The texture is also paramount in wine and food pairings. Turpino velvety tannins firm up and grip your palate, helping to lift and hold the wine in place and demand food of substantial structure. Enticed by the flavours and freshness of seasonal ingredients like radishes, carrots, baby beets and arugula in mind, the idea of a simple dish that echoes the vibrancy of our vineyards in Maremma takes shape.
Pairing this vegan recipe with Turpino 2017
Black caviar or beluga lentils – note the resemblance – can be as savoury and thick as black beans. They are versatile in the kitchen, hold their shape even if you accidentally overcook them, and can take well Turpino's layered texture.
The roasted carrots lend earthiness, sweetness and colour, as do the beets and beet juice, perfectly capturing the rich and ripe fruit of the warm 2017 vintage. A vegan feta topping to help fill out the dish mirrors the full body of the wine.
If you are keen on contrasting flavours, just add a side of arugula salad, simply tossed with fresh lemon juice and extra virgin olive oil. The peppery leaves of arugula (rocket salad) and the purple radishes mimic the spiciness in the wine, and the bright acidity offers a refreshing counterpart to the sweetness of the beets.
---
Beet Braised Black Caviar Lentils with Roasted Carrots and Vegan Feta
By Sunny Gandara · Querciabella U.S. Brand Director SERVES 4–6
500 ml vegetable stock
Juice from 2 large beets (about 300 ml)
280 grams black caviar lentils or beluga lentils, rinsed and drained
2 medium beets (about 200 g) peeled and diced
3–4 roasted carrots
4 cloves garlic, roughly chopped
1 small red onion, peeled and diced small
1 celery stalk, diced small
7–8 sprigs thyme, removed from stalk and leaves chopped
3 tablespoons extra virgin olive oil
2 teaspoons salt, more to taste
1 1/2 tablespoon balsamic vinegar
1 bay leaf
Crumbled vegan feta – garnish (optional)
Heat the olive oil over medium-high heat in a large Dutch oven or heavy-bottomed pot. Sauté the onion and celery with a pinch of salt for 4–5 minutes, until slightly softened. Turn the heat down to medium before adding garlic and thyme. Cook for another minute until fragrant. Add the lentils, vegetable stock, bay leaf and another pinch of salt. Bring to a boil, reduce to a simmer over low heat and cover with lid. Continue cooking for about 20–25 minutes until lentils are just tender.
Remove the lid, add the beet juice and continue simmering on low without a lid for 10–15 more minutes until the liquid has evaporated to the consistency you like. To finish, stir in the balsamic vinegar, taste for seasoning and serve, topped with roasted carrots, the optional crumbled vegan feta (or vegan goat cheese) and a side of arugula salad with sliced spring radishes.
FOR THE ROASTED CARROTS
1 small bunch (about 5–6 carrots) of rainbow coloured carrots, washed and peeled
1 tablespoon red wine vinegar
1–2 tablespoons olive oil
3–4 cloves garlic, smashed
4–5 sprigs fresh thyme
Salt, pepper to taste
Preheat the oven to 210 degrees Celsius (420 degrees Fahrenheit). Place the carrots in a baking dish, coat with red wine vinegar and olive oil, sprinkle with a bit of salt and freshly cracked black pepper and toss with the garlic and thyme. Cover with foil and cook for about 25 minutes. Remove foil and cook for another 10 minutes until carrots are tender and lightly browned on the outside. (Cooking time might vary depending on the size of your carrots and the oven).
 Serve the carrots either whole or sliced lengthwise for a pretty presentation.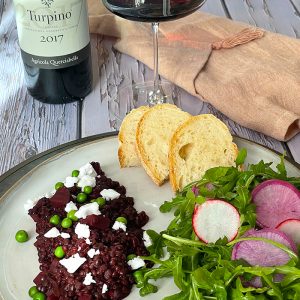 ---
Turpino 2017 is now available to buy in different formats
0.750 litre, 12 or 6 bottle cardboard box
1.5 litre, 1 bottle wooden case
3 litre, 1 bottle wooden case
6 litre, 1 bottle wooden case (exceptional vintages)
12 litre, 1 bottle wooden case (exceptional vintages).